Its funny how the world works when your single you want to be in a relationship and after being in a relationship for a while everyone at some point wants to be single again. I think its human nature that we as humans are never content with what we have. Today the day of Valentines Day my friends that are single are sad and bummed that they are not with anyone special to celebrate it with and believe that the only sole purpose of Valentines Day is to make them aware that they are single; but I dare to prove all you single people WRONG!!!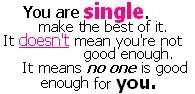 Being single is far from being a bad thing; actually the complete contrary being single is such a good thing that people in good relationships usually mess them up due to the need to be single again. I remember by single years with such fondness that I miss them. I had so much fun when I was single,  I explored new things, went to new places, found out who I was and so much more! So why is it that everyone dreads to be single, when its such a fantastic phase in our lives. You may ask why I say phase? Well because I have not meet the first person that has stayed single forever, being with someone is inevitable, the person may be a friend, a stranger a co-worker or a blast from the past; but everyone will end up in a relationship at some point. After being in that relationship usually give it 6 months or so before the yearning to be single again creeps up again due to how much the person misses it. So the way I see it is that unless the two people in the relationship are completely head over heels in love with eachother, someone in that relationship wants to be single again. So for you Single people, BE HAPPY AND ENJOY IT WHILE IT LAST!!!
    Now if your still not buying the idea that being single is a GREAT thing and that instead of looking at Single Awareness Day as a curse but as a blessing; then let me remind you of ten reasons you should be giving a toast tonight for being single. 
1. You can do whatever you want when you want it! You don't need to get approval from anyone if you want to go on a weekend trip with friends.
2. You save money! Do you know how much money is spent on dates, gifts, etc. And the longer you are with the person the more significantly expensive a gift tends to be.
3. You can focus on your goals! We tend to get sidetracked when we are in a relationship, so take this time to focus and achieve your goals! You will never be as focus with achieving your goals.
4. You don't have to deal with anyone PMS, bad mood, etc! When your friends decide to be a bit bitchy or mean you just give them their space and your good. But when your in a relationship you have to deal with it, since usually the other person beleives it their fault and it ends up in a fight!
5. You meet tons of new people! When your single you are usually looking for the particular someone, most of the time you don't find that particular someone but you tend to meet tons of new people! Since you won't be blamed for flirting while in a relationship, singles can flirt the night away. 
6. You can maintain and cultivate your friendships! Most people lose touch with their friends when they enter a relationship and end up loosing them or missing them after the initial magic of the relationship is gone. As a happy single person you are able to rekindle old friendships and cultivate the new ones. 
7. You can travel a lot more!!! Since no one is holding you back at the home land you can go backpacking through Europe for three months without feeling guilty for leaving someone behind.
8. You can experiment new things! Hey nothing can stop you from doing a couple things that would normally not be seen as normal. No one but yourself can stop you from jumping out of a plane, dancing on top of the bar, kissing a stranger, etc. Do anything that intrigues you, this is the time where the only person that matters is you!
9. Spend time with those you care about! I am talking about your friends, your family, your coworkers. Even though you don't feel romantic love for them, you care for them and they care for you. Spend some quality time with those you usually don't see due to our hectic lives. 
10. You can take care of yourself, figure yourself out and love yourself! Being single is a time that the only person you can take care of 100% is yourself. This is the time that you can take to figure out what you want in life, who you would want in your life and take care of yourself like taking up a hobby, going to the gym, relaxing..etc!!
             Being single is a great and necessary time for everyone, SO ENJOY IT!!!